Finishing a project is always great news. And even more so when the client is incredibly satisfied with the result. For this reason, we are happy to present the latest work from our Ideliq brand, a custom tap for Richard dit LeCastor.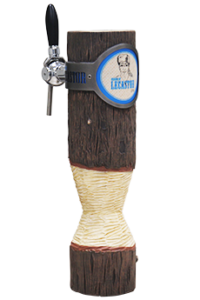 This beer belongs to the ​Île d'Orleans microbrewery, which was bought in 2016 by the Belgian group Brewery Haacht, which had already come to us to make the Coq Hardi dispenser. Having a client want to work with us again is a better reward than any compliment or review. Therefore, to acknowledge the trust that Brewery Haacht has placed in us, we have done our best to create a tap handle that faithfully portrays the essence of Richard dit LeCastor.
This drink owes its name to the grotesque figure of a man named Richard, who earned the nickname of "The Beaver" for his fur hat and prominent teeth. He made his own beer during his boat trip and, upon landing on the Isle of Orleans, in Canada, the brewmaster invited those present to come to his ship with mugs to try out the type of beer he had invented: Castor Pale Ale.
As the figure of the beaver is so important in the brand's history, we made sure that the dispenser was directly related to this mammal. Thus, we decided that the aesthetics of the tap would reflect a log gnawed at by a beaver. To create the woody aesthetic, we used special resins, as we did with the Coq Hardi dispenser. As the essence of the brands is their hidden truth, we always want the realism of each detail to play an important role in our designs.
At Ideliq, once again we are proud to have helped a brewery to get their message across creatively. In this way, the brand will be able to easily connect with its audience at the point of sale through the aesthetics and design of its fully customised tap handle.
https://www.aplimet.es/wp-content/uploads/2020/12/le-castor.jpg
321
710
gestor
https://www.aplimet.es/wp-content/uploads/2017/01/aplimet-logo-2017.png
gestor
2020-12-23 11:51:47
2020-12-23 12:23:37
Richard dit LeCastor, the best press for a great beer